If you want to create your gaming PC using PCIe 4.0, start by selecting the best PCIe 4.0 motherboard. PCIe 4.0 promises speedier gaming, multimedia creation, and storage than PCIe 3.0. In theory, at least.
PCIe 4.0 is the most recent version of the PCI Express standard, which allows your computer to interface with various expansion cards, including graphics cards and M.2 solid-state drives. The throughput of PCIe 4.0 is twice that of PCIe 3.0, resulting in faster data transfers and lower latency.
Most customers are left wondering whether PCIe 4.0 is required to achieve the best performance from the RTX 30 series now that the new Ampere GPUs support it. While a PCIe 4.0 system is desirable, you can achieve almost the same performance by plugging the GPU into a PCIe 3.0 x16 slot. In a Reddit Q&A session, an NVIDIA representative confirmed that the performance difference between PCIe 3.0 and PCIe 4.0 is negligible. The CPU is the only component that can make a meaningful difference.
What is PCIe 4.0?
PCIe is the abbreviation for peripheral component interconnect express. It's a communication standard that lets your PC communicate with numerous expansion cards, including your GPU, sound card, wireless or ethernet adapters, and even M.2 SSD storage. The larger the number, whether it's x1, x4, x8, or x16 lanes, the more bandwidth is accessible.
PCIe 4.0 is the most recent version of the PCI Express standard, which allows your computer to interface with various expansion cards, including graphics cards and M.2 solid-state drives. The throughput of PCIe 4.0 is twice that of PCIe 3.0, resulting in faster data transfers and lower latency.
According to the motherboard, the PCIe lanes must be matched. You must use x16 for graphics cards. A Wi-Fi or Ethernet hub may require only x1 or x4. The larger the slot on the motherboard, the more lanes there are. The majority of current motherboards have a combination of slots. X16 is the largest (typically between one and three). PCIe 4.0 has higher bandwidth than PCIe 3.0, similar to the number of lanes available.
The Best Motherboards with PCIe 4
We've compiled a list of the finest PCIe 4.0 motherboards on the market right now.
Gigabyte X570 AORUS Master
The Gigabyte X570 AORUS Master costs around half as much as other motherboards with only a 14-phase VRM. It has four DDR4 memory slots with a total capacity of 128GB. Here Three PCIe 4.0 M.2 slots and 3 standard PCIe slots are also available. The just one drawback to this setup is that when the third M.2 slot is used, two out of the six SATA ports are disabled.
The router has built-in Wi-Fi 6 and two Ethernet ports, one of which supports 2.5 GbE. The ALC1220 codec and ESS Sabre 9118 DAC handle the audio. There are also USB-C connectors on the front and back and the customary RGB lights.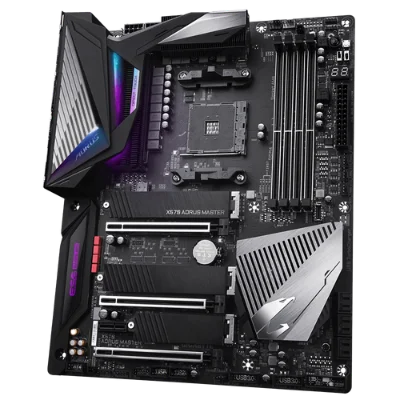 GIGABYTE Z590I AORUS Ultra
The GIGABYTE Z590I AORUS Ultra lets you build a tiny but powerful PC that can easily tackle demanding tasks while taking up a fraction of the desk space. When shifting workspaces or remodeling your office space, a MINI-ITX PC is portable and easy to move about.
With strengthened steel shielding on the PCIe and memory slots, the Z590I AORUS Ultra is exceptionally well built. It includes a pre-installed I/0 shield and Q-Flash Plus support for BIOS updates without the need to install the CPU. With customizable RGB lights and an addressable RGB header, Gigabyte ensures you don't miss the lighting show.
Expect fewer expansion slots, like with most MINI-ITX motherboards. For high-performance SSDs, the Z590I AORUS Ultra includes one PCIe 4.0 x16 slot and one M.2 PCIe 4.0 slot. Another M.2 slot is located on the motherboard's back panel. However, it operates at PCIe 3.0 speeds.
The Z590I AORUS Ultra does not allow multi-GPU configurations because it only has one PCIe expansion slot. There are two DIMM slots for memory, each supporting up to 64GB of memory with overclocked speeds of up to 4600MHz and non-overclocked speeds of 2933MHz.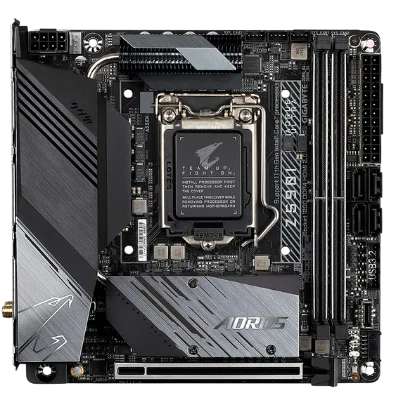 MSI MEG X570 Godlike
MSI's flagship motherboard, the MEG X570 Godlike, contains 19 power phases, making it ideal for overclocking. There are also four PCIe 4.0 add-on card slots and three PCIe 4.0 M.2 slots. At such a premium price, it's frustrating that there are only four RAM slots with a maximum size of 128GB. Although that should be plenty for most gamers, rivals such as the Gigabyte TRX40 and ROG Zenith II have gone up to 256GB.
This motherboard contains dedicated audio codecs for the front and rear, with an eight-channel ESS Sabre digital to analog converter (DAC) 6.3-millimetre port. With the accompanying expander card, you can add two more M.2 slots when you run out. To expand the 2.5 Gbps plus networking capacity, utilize the 10 Gb LAN card or the built-in Wi-Fi 6.
If you desire uncompromised performance, the MSI MEG X570 GODLIKE is the best PCIe 4.0 motherboard to choose from. It's an MSI X570 board with all the characteristics you'll need to build a high-end computer. This motherboard is well worth its premium price tag, with four PCIe 4.0 expansion slots, five M.2 slots, 10GbE LAN, stable 14+4+1 phase power delivery, and excellent build quality.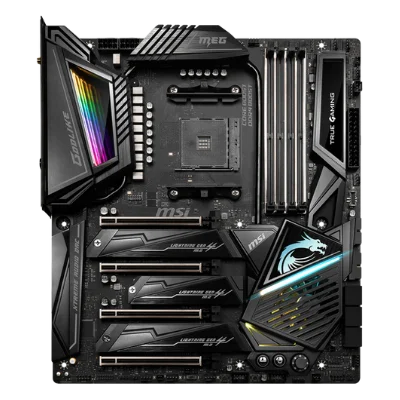 ASUS ROG Zenith II Extreme
The Asus ROG Zenith II Extreme is the next high-end X570 motherboard with 16 power phases. It is less expensive than the MSI MEG and TRX40, but it has many of the same or better features. It also features eight memory slots, each holding up to 256 GB of DDR4 RAM. The 5 PCIe 4.0 M2 slots and four standard PCIe 4.0 slots are also available. Because one of the M.2 slots is on the back of the motherboard, you can only reach it if the case isn't attached to it.
There's an OLED screen on this motherboard, the same like on the MEG X570 Godlike, but it's 1.77 inches and has a color display. You can use it to display valuable data such as CPU temperature and voltage. When troubleshooting the motherboard, you can also use it for diagnostics. Unsurprisingly, this motherboard includes a built-in Wi-Fi 6 adapter, and there's also a USB 3.0 port.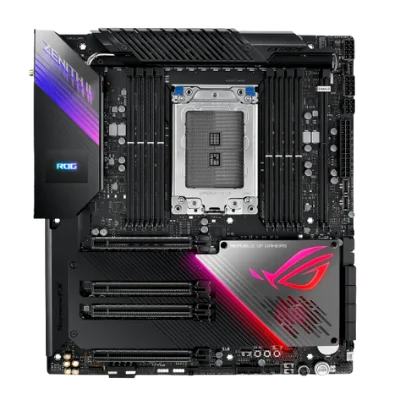 Asus AM4 TUF Gaming X570
With Asus AM4 TUF Gaming X570, you can get a better deal than the other motherboards we've looked at. It has a 12+2 phase VRM, and it uses military-grade components like other TUF products. It has the same 128GB RAM capacity as the Gigabyte X570 AORUS Master and MSI MEG X570 Godlike.
You'll also find two x1 slots for Wi-Fi adapters and two full-length PCIe 4.0 slots for graphics cards. The AM4 TUF Gaming X570 offers only two PCIe 4.0 M.2 slots compared to the other motherboards on this list, but that should be enough for most people.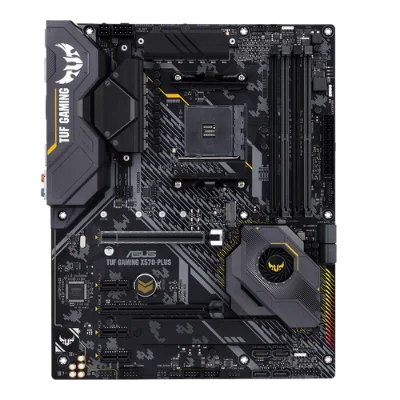 Gigabyte TRX40 AORUS Xtreme
The Gigabyte TRX40 AORUS Xtreme motherboard is the ultimate Ryzen Threadripper motherboard. With the 3rd generation Ryzen Threadripper desktop processors, this motherboard is designed to give a high-end computing experience. It features excellent power delivery and cooling to handle the AMD TRX40 chipset's huge PCIe 4.0 bandwidth. We're talking about a lot of PCIe 4.0 lanes here.
The Gigabyte TRX40 AORUS Xtreme is built to be the best in the industry. It has a dark overall motif with silver accents, but the board's power is what struck us the most. It has a nano-carbon backplate, which increases stiffness and provides more surface area for heat dissipation while also adding weight. Heatsinks, an aluminum IO cover, and reinforced PCIe slots cover the front panel, making the motherboard robust.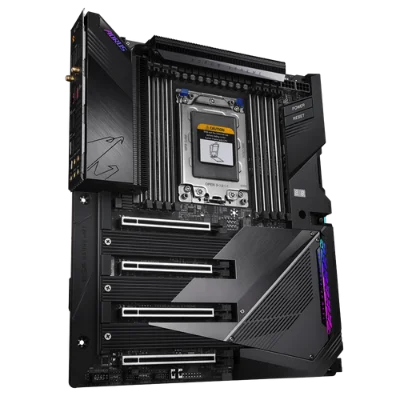 Final Thoughts
PCIe 4.0 is a feature that is only available on the top motherboards. Depending on the processor you plan to utilize, we've picked up some of the best options for an Intel or AMD PC setup. All of these suggestions are compatible with PCIe 4.0.
The most critical factor in selecting the ideal motherboard for your setup is considering what you require. If you only need PCIe 4.0 support and don't care about other features, the Gigabyte X570 AORUS Master is a great option that isn't too expensive.
If you are also looking for the Best DDR3 Motherboard for gaming, please check this article: Best DDR3 Motherboard in 2022
Frequently Asked Questions
Is it possible to use a PCIe 4.0 card with a 3.0 motherboard?
If you buy a PCIe 4.0 expansion card but only have PCIe 3.0 slots on your motherboard. You can still use PCIe 4.0 expansion cards with PCIe 3.0 motherboards, thanks to PCIe 4.0's backward compatibility. The slower PCIe 3.0 speeds will be a bottleneck.
Is PCIe 4.0 SSD worth it?
PCIe 4.0 SSDs are the way to go if you want the absolute quickest drives available. They're faster than any PCIe 3.0 drive, making massive file transfers for tasks like video editing a breeze.
Is it possible to use a PCIe 3.0 SSD in a 4.0 slot?
PCIe 4.0, like PCIe 3.0, is backward and forward compatible. However, if you connect a PCIe 3.0 card to a PCIe 4.0 slot, the card will behave according to PCIe 3.0 specifications.
Is PCIe 4 important for gaming?
PCIe 4.0 isn't likely worth investing in a gaming machine right now unless you have some spare cash and a compelling purpose of burning it. Currently, only a few graphics cards support PCIe 4.0 for gaming.