Have you ever wanted to know the exact size of your laptop screen but just couldn't figure out how to measure laptop screen size? Don't worry, we have got your back! In this article, we will walk you through the steps to measure the size of your laptop screen.
Multimedia requirements: Are you looking for a media-consuming laptop? As a result, the vast screen is ideal for you. You may use it for video games, watching movies, streaming live to deliver information, and great viewing angles. For certain users, this is a critical factor.
Your Requires Usage: The size of the workspace also plays a role in determining the correct screen size. Some people utilize many displays, while others have more flexible schedules and merely use their Laptop as a monitor.
Depending on your work, the size of your laptop screen matters. Focusing on the screen can affect your eyes. That's why you need to have a considerably bigger screen. Many people using laptops or deciding to buy new laptops need to know about laptop screen size or how to measure laptop screen.
We may all have a plethora of questions racing through our heads while choosing the size of a laptop screen. Don't worry; figuring it out isn't difficult. I'll teach you how to measure laptop screen size at home, even if the dimensions vary from Laptop to Laptop. In this article, we'll let you know about the method to measure laptop screen size & things to consider when choosing the best laptop screens. Have a look!
How To Measure Laptop Screen Size: A Comprehensive Guide
Follow the guidelines below on how to measure laptop screen size in the most accurate way possible.
Step 1: Take A Tape Measure
A measuring tape is the first item you'll need for the screen size measurement quest. Make sure the measuring tape includes an inch measurement to make your task easier. If they don't provide it, you can always convert them afterward.
Step 2:Find The Starting Point
Keep in mind that you should measure your screen diagonally while taking measurements. Another factor to think about is the measurement's beginning position. Unfortunately, this is where the vast majority of people go astray.
You may prevent the difficulty by turning on the laptop screen to locate the beginning point. Start measuring diagonally from the top left corner of the screen and work your way down to the bottom right corner.
Step 3: Make A Record Of The Measurement
It's time to write down your findings after you've collected your measurements. If obtained in other units, you'd need to convert the dimensions to inches. There's no need to restore if you've already converted in inches.
You know why this is so important. In reality, every screen on the market for laptops is measured in inches. This applies to televisions and computer monitors as well.
Step 4: Converting Centimeters To Inches
This is where we'll show you how to convert inches to feet, and Converting any unit to inches is an easy process. Consider the following scenario.
Assume you've taken a centimeter measurement of the laptop screen.
You discovered that the size of your laptop screen was 34cm when you measured it. Remember that one inch = 2.54cm. As a result, divide 34 by 2.54 to get 34cm. The result is 13.3 inches in this situation.
Also Read: How Many GHz Is Good For Gaming? | Simple Guide!
Measure Laptop Screen With Measuring Tape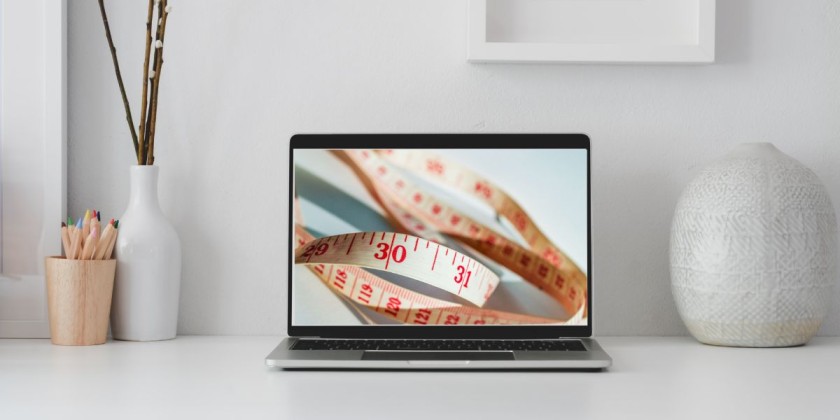 If you used a regular measuring tape at home to measure the size of your screen in inches, the standard tape measure you used was most likely in 16th inches. If your measuring tape has commercial inch units, keep in mind that they are in tenths of an inch.
Other Alternative Methods
Suppose you don't have a measuring tape handy. In that case, you may look up your Laptop's specifications on the internet, which will provide you with the exact size of your screen and other helpful information about your monitor and display.
Your laptop company's specs page of your Laptop's model page should have all the information you need about your Laptop. Keep in mind that each laptop manufacturer may use different display product characteristics.
Make sure you have your Product or Model Number handy. It's usually near the battery panel on the Laptop's backside, as an affixed label. Go to your Laptop's brand's Technical Support website after you've found your product number. Introduce the number in the Search panel. You'll find a number of choices for your device, including manual downloads and troubleshooting, among others.
Look for your "Product Information" under the "Product Information" section. Look for your Model's "Specifications" in "Product Information." You'll learn about your Laptop's RAM, processors, and hard drive, among other things. In the "Display" area, you'll find the size of your screen and the resolution, monitor type, and additional pertinent information.
Things to Consider When Choosing a Laptop
Screen Size
Although each setting and scenario is different, there are five general factors to consider when selecting a laptop screen size. Other factors, such as total size and cost, must also be addressed. Let's have a look at these aspects now.
Experience
The most crucial stage is to comprehend the primary reason for utilizing your Laptop and the size of your screen. As a result, you'll need a laptop. As previously said, if feasible, we recommend using an external monitor to make your laptop screen smaller.
Also Read: How Many Fans Are Needed In A PC? | Simple Guide!
Portability
A larger screen will improve your experience and lessen your apprehension if you're searching for a laptop that serves as a portable desktop and you only want to bring it
As a result, it's a good idea to think about your main workspace before deciding on the screen size you'll require. In a busy environment, large screen sizes might be overpowering. As a result, the most significant advantages are forfeited. If this is your sole screen at work, you may require a larger screen.
Conclusion
Most individuals become stuck in a single position regarding " how to measure laptop screen size." It's simple to figure out how big a laptop's screen is. Once we figure it out, it'll only be a matter of time before we have the screen size of our Laptop figured out. As a result, you won't have to measure again, and you'll remember it!