If you're in the market for a new monitor, the battle between monitor OLED vs IPS panels might be a tough decision to make. Both technologies offer unique advantages and drawbacks, and it's essential to understand what sets them apart before making your choice.
OLED panels boast true blacks and lightning-fast pixel response times, resulting in a stunning visual experience. However, watch for image burn-in and retention issues that may occur over time. OLED displays might not reach the same brightness levels as high-end LED-backlit LCDs with IPS or VA panels.
On the other hand, IPS panels offer a wider viewing angle and no risk of burn-in. Although their response time and contrast may not match those of OLED displays, they are still a reliable and popular choice.
With OLED prices becoming more affordable, you may be tempted to upgrade to this cutting-edge technology. But before making a decision, consider your needs and preferences. This simple and amazing guide will walk you through the key factors to remember when choosing between these two-panel types in 2023.
1 What is OLED?
OLED stands for Organic Light Emitting Diode, and it's a remarkable technology that sets it apart from traditional LCD panels like IPS. Unlike LCDs that rely on a backlight to illuminate the screen, OLED doesn't need any backlight at all. Instead, each pixel in an OLED display emits its own light, giving it unparalleled control over brightness and contrast.
Imagine having pixels that can turn on and off individually, creating perfectly accurate black or white images. That's exactly what OLED brings to the table. The "O" in OLED stands for "organic," referring to the organic compounds used in the display's thin films that emit light when an electric current is applied.
This unique feature of OLED technology allows for stunningly vibrant colors and true black levels, making it a favorite among enthusiasts and professionals alike. OLED displays are thinner and lighter and energy-efficient since pixels only consume power when they are in use.
As a result, OLED technology is commonly used in high-end smartphones, televisions, and monitors, offering a visually captivating experience.
2 What is IPS?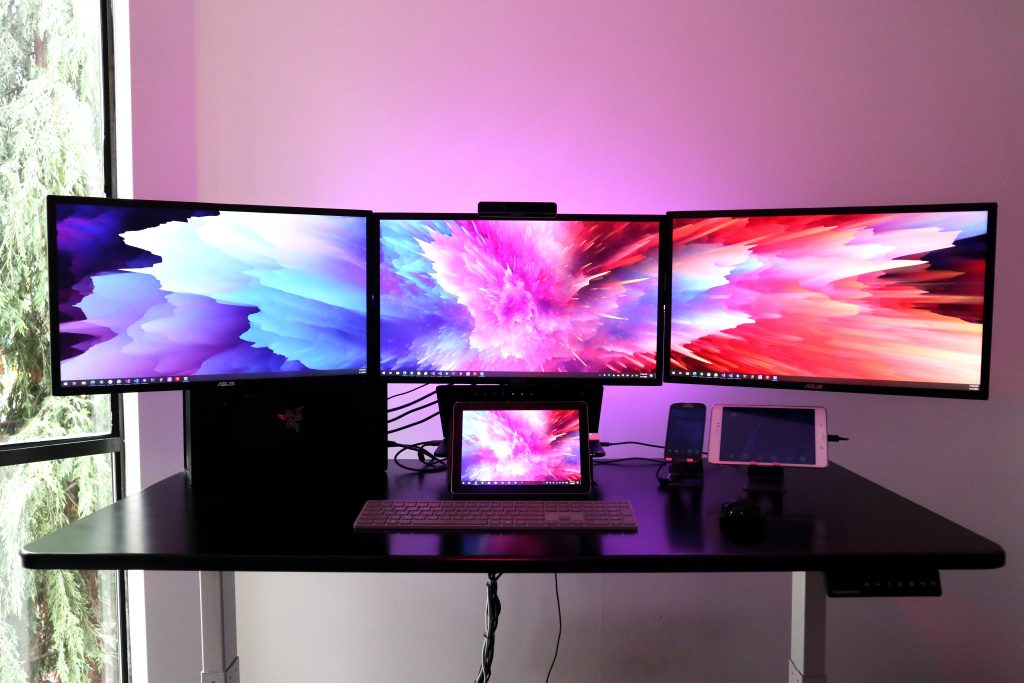 IPS, or In-Plane Switching, is one of the three types of LCD panels commonly found in displays. Unlike OLED, IPS panels do require a backlight to illuminate the screen. This is why you might have noticed some LCD TVs displaying a greyish tone when the image is meant to be pitch black.
IPS technology falls between the TN (twisted nematic) and VA (vertical alignment) panels in terms of response time. It offers a middle-ground solution, balancing speed and image quality. However, IPS truly stands out with its impressive 178-degree viewing angle, allowing for consistent and vibrant images even when viewed from side angles.
This wide viewing capability makes IPS panels popular for monitors and TVs, where multiple viewers may be watching from various positions. With IPS technology, you can enjoy accurate colors and excellent image quality regardless of where you're seated in the room.
This has made IPS displays a top choice for professional photographers, graphic designers, and anyone who values consistent image reproduction.
Also Check: What Are PCIe Lanes?
Factors to Consider When Selecting Monitor OLED Vs IPS?
When choosing the perfect monitor for your needs, the choice between OLED and IPS panels can be tough. Both technologies offer distinct advantages and considerations that should be taken into account.
Monitor OLED Vs IPS – Screen Size
OLED displays are available in many sizes, from portable 14-inch to large 77-inch models. If you're looking for a mid-sized OLED monitor, options like the LG OLED48C1 offer a 48-inch display, perfect for immersive gaming and media consumption. On the other hand, IPS panels come in various sizes, from compact 24-inch models to massive over 100-inch screens, catering to diverse usage scenarios.
Monitor OLED Vs IPS – HDR (High Dynamic Range)
Regarding High Dynamic Range (HDR), both OLED and IPS panels have their strengths. OLED panels boast a native contrast ratio that eliminates the need for expensive full-array local dimming (FALD) implementations, delivering exceptional contrast and image quality.
On the other hand, IPS panels can achieve higher peak brightness levels, especially when enhanced with mini LED backlights, making them ideal for brightly lit rooms.
Monitor OLED Vs IPS – Gaming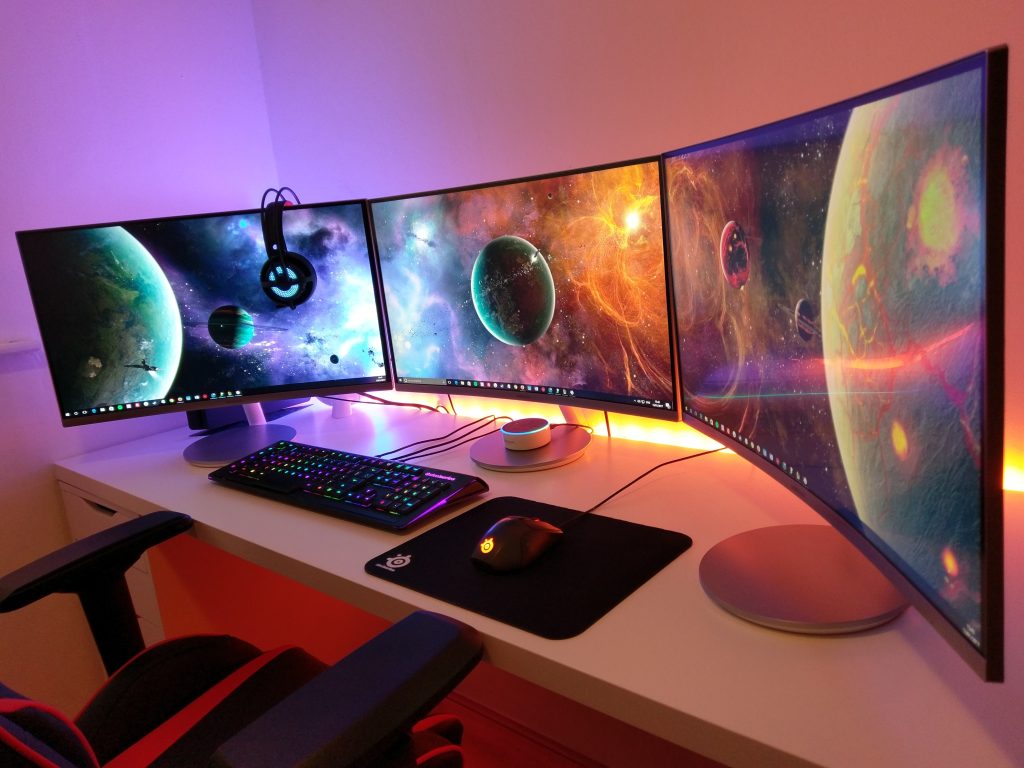 Response time is crucial for gamers, and OLED panels excel in this area with their instantaneous pixel response time, ensuring smooth gameplay without noticeable ghosting. IPS panels offer competitive gaming performance, but the fastest IPS panels still can't match the quick response time of OLED.
Refresh rate and resolution are essential considerations for gaming as well. OLED displays offer a maximum refresh rate of 240Hz, while IPS panels can go even higher, reaching up to 390Hz and beyond. Additionally, OLED technology displays non-native resolutions better than IPS panels, making it a viable option for those needing to scale down the resolution without compromising image quality.
Monitor OLED Vs IPS – Viewing Angles
The viewing angles of a display panel determine how well the image retains its quality when viewed from different angles. IPS panels excel in this aspect, offering a wide 178-degree viewing angle. This means that you can enjoy vibrant colors and sharp images from the side or front of the screen, making it an excellent choice for large family gatherings or movie nights.
On the other hand, OLED panels take the crown for viewing angles, offering an unmatched performance. With an OLED panel, you get superb image quality from virtually any angle, providing a more immersive viewing experience, particularly for larger groups of viewers.
Monitor OLED Vs IPS – Contrast
Contrast ratio is a crucial factor in determining the display's ability to render bright whites and deep blacks, resulting in a more dynamic and visually appealing image. OLED panels excel in this area, boasting infinite contrast ratios. The individual pixels on an OLED panel can turn on and off independently, allowing for true black levels and stunning contrast. When compared to IPS panels, OLED displays offer a noticeable improvement in overall image quality.
However, this is not to say that IPS panels have poor contrast. IPS panels still offer a much better contrast ratio than TN LCD panels, making them a respectable choice, especially when compared to older technologies.
Monitor OLED Vs IPS – OLED Image Retention/Burn-In
One significant concern with OLED panels is the possibility of image burn-in. Leaving a static image on the screen for an extended period can result in a permanent, ghost-like image visible in the background. To combat this, OLED displays incorporate built-in screen savers and pixel shifters, but users should remain cautious.
While image retention is similar to burn-in, it is not permanent and typically disappears after a few minutes or with the use of dedicated display features. This may occur after playing video games with fixed HUD elements or engaging in color-critical work with static elements.
To minimize the risk of burn-in or image retention, users should vary the content displayed on their OLED screens regularly. This can be achieved by switching between different applications or playing content without static elements for a period after extended use.
Monitor OLED Vs IPS – Longevity, Power Consumption
OLED panels' longevity and power consumption are still subject to ongoing research. While OLED panels are relatively new in the market, they are expected to have a comparable lifespan to LED panels.
Regarding power consumption, OLED and IPS panels are relatively similar, with power usage depending on the brightness setting. Users should adjust the brightness to suit their preferences and conserve power accordingly.
So, Which One You Should Choose?
When deciding between IPS and OLED technologies, it's essential to consider your specific needs and preferences. Both options have their strengths and weaknesses, catering to different use cases. IPS might be the ideal choice for those valuing color accuracy and wide viewing angles.
On the other hand, OLED provides deep blacks and vibrant colors, making it perfect for immersive entertainment experiences. Whether you're shopping for smartphones or TVs, weighing the pros and cons will help you make an informed and satisfying purchase decision.
| | | |
| --- | --- | --- |
| | IPS LCD | OLED |
| Brightness | High | Low/Medium |
| Contrast Ratio | Low/Medium | Infinite (High) |
| Black Levels | Imperfect | Perfect |
| Backlight Bleed | Yes | No |
| Viewing Angles | Medium | Extremely Wide |
| Response Time | Medium | High |
| Burn-In Issues | No | Yes |
| Price | Low | High |
Conclusion
When it comes to choosing between OLED and IPS panels for your monitor, it boils down to your personal preferences and priorities. OLED is a remarkable choice if you highly value exceptional contrast ratio and wide viewing angles, and budget is not a concern.
On the other hand, if size and price play a significant role in your decision-making, then IPS panels offer a more affordable option without compromising on the resolution, with the availability of 4K Ultra HD.
Ultimately, both OLED and IPS panels have their unique strengths, catering to different user needs. Whichever option you choose, rest assured that you'll be greeted with stunning visuals and an immersive viewing experience, making your monitor a true asset to your setup.
Frequently Asked Questions
Are IPS superior to OLED?
The main benefit of IPS panels is their increased brightness, particularly when combined with a tiny LED backlight. OLED displays are often limited to roughly 1,000 nits, while mini LED displays can reach peak brightness levels of around 2,000.
Do IPS displays benefit the eyes?
In contrast to other types of panels, IPS displays' liquid crystals shift horizontally to produce superior viewing angles, stunning image quality, and accurate color reproduction. You can appreciate exceptionally broad viewing angles and superb color on IPS panels.
How durable are IPS monitors?
A computer display typically lasts between 30,000 and 60,000 hours. Based on the assumption that it is accessed for about eight hours a day, this corresponds to anything between ten and twenty years of use.
What about IPS for gaming?
Choose IPS if you want to play games with the most vibrant colors available. Points of view! That's another area where IPS dominates all rivals by a wide margin. Gaming displays with IPS technology consistently maintain brightness levels from extremely low angles because of their 178/178 degree vertical and horizontal axes.
Is OLED superior to 4k HDR?
Compared to 4k UHD LED TVs, OLED has a substantially wider and broader viewing angle. In contrast to LEDs, which still experience shutter problems related to screen pixels, OLED has improved pixels with self-illumination capabilities. OLED is the undisputed winner in this regard, therefore.